Heath Ledger On Playing The Joker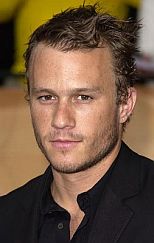 With all of the "I Wish I Could Quit You" jokes in the past, Heath Ledger is ready to look forward and move on. While doing press for Candy, which is premiering at the Toronto Film Festival, he offered insight into playing the Joker in Christopher Nolan's Batman Begins sequel, The Dark Knight.
According to The Toronto Sun and Toronto Star, he had this to say about his role: "It's definitely going to stump people. I think it'll be more along the lines of how the Joker was meant to be in the comics, darker and more sinister. I wouldn't have thought of me, either. But it's obviously not going to be what Jack Nicholson did."
He adds, "It's going to be more nuanced and dark and more along the lines of a Clockwork Orange kind of feel. Which is, I think, what the comic book was after: less about his laugh and more about his eyes."
Ledger has proven his acting chops in recent years, and he just might be able to pull this one off. The Dark Knight will be released in the summer of 2008.
Your Daily Blend of Entertainment News