Andrew Garfield Ate Pot Brownies And Had A Heavenly Disneyland Experience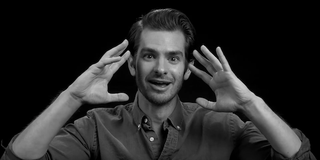 (Image credit: YouTube)
Everyone has their own idea of what heaven would be like. For some, it might be a big bed and a clear calendar, for others it might be a beautiful day and a gorgeous mountain path. But all Andrew Garfield needs to get into a heavenly state of mind is apparently a day at Disneyland with some good friends and some pot brownies.
In the latest Screen Test series from W Magazine, Andrew Garfield took a serious discussion about spirituality to a pretty wonderful conclusion by sharing a story about the time he got high with a bunch of his friends and galavanted around Disneyland. After some thoughtful reflections on what it means to be spiritual or religious nowadays --- tied to the evangelical theme of his new film Silence --- the interviewer asks Garfield about his idea of heaven.
Not exactly the conventional answer to what heaven is, but Andrew Garfield makes a really good case for it, describing how he and his friends spent the day dancing around the theme park and goofing off on the rides. Though Garfield doesn't mention her in the video, one of his fellow Disneyland stoners was his former girlfriend Emma Stone, who had been photographed running around Disneyland with Garfield on his 29th birthday back in 2012 --- Us Weekly has some of the pictures. They had begun dating two years earlier on the set of The Amazing Spider-Man, but unfortunately broke up in 2015.
Though the day was full of some heavenly highs, a few of the rides proved to be too much for Andrew Garfield and his pals while inebriated. The actor admitted that he got freaked out on the It's a Small World ride, which I can totally understand someone doing sober as well, and he recalled that one of his friends got too scared to board a children's ride later in the day. At the end of the day, Garfield recalled that the whole group went back to his place to sober up and look back on the magical experience that they had shared.
Your Daily Blend of Entertainment News
Your Daily Blend of Entertainment News
Thank you for signing up to CinemaBlend. You will receive a verification email shortly.
There was a problem. Please refresh the page and try again.