Exclusive Video Interview: Humpday Stars Mark Duplass And Joshua Leonard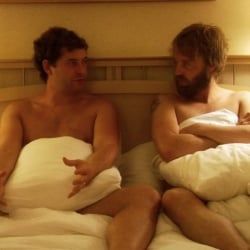 This weekend is already pretty gay, with Bruno flashing his hotpants and arschloch on screens all over the country. But in two theaters, one in New York and one in Seattle, there is a much smaller movie that's self-described as "beyond gay," a story about straight friends who decide to make a gay porn for reasons that even they don't understand.
You may have already heard the substantial hype about Humpday, and if you read my review, you know it's funnier and more honest than virtually any other movie that's come out this year. And since the movie largely relies on the charms of its stars, Mark Duplass and Josh Leonard, to carry you through the narrative, how better to prepare for the film than to watch my video interview with the two of them?
We talked about the real-life experiences that helped them create their characters of Ben and Andrew, the imaginary $2 million deal they've signed for Humpday 2, and the fine line of homophobia that the film approaches but deftly avoids. Seriously guys, this movie is great. It might not be playing near you yet, but keep an eye out as it expands to more theaters across the country.
Staff Writer at CinemaBlend
Your Daily Blend of Entertainment News
Thank you for signing up to CinemaBlend. You will receive a verification email shortly.
There was a problem. Please refresh the page and try again.