Exclusive Video Interview: Michelle Monaghan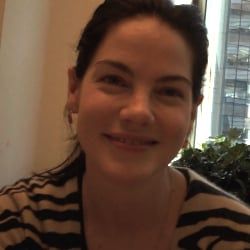 You may know Michelle Monaghan as the girl from The Heartbreak Kid, or Eagle Eye, or a half a dozen other studio movies in which she's good, but definitely not the main character or the focus of the story. Sadly, that's par for the course for a lot of Hollywood actresses, who frequently get stuck playing the girlfriend or the sidekick without ever getting a chance to show how talented they really are.
But Michelle Monaghan has found a way to get the attention she deserves-- going independent. This weekend she stars in the teeny tiny indie Trucker, the debut feature from writer-director James Mottern, starring Monaghan as long-haul truck driver Diane. She's spent the last 10 years living a carefree life that involves a lot of drinking and a lot of different men, and barely stopping to think about the 11-year-old son (Jimmy Bennett) she's left to be raised by her ex (Benjamin Bratt). But when the ex gets sicks, her son has to come to live with her, and Diane is forced to reckon with the responsibilities and desire for a settled life that she thought she'd long since left behind.
Trucker debuted at the 2008 Tribeca Film Festival, and spent a long time struggling in the shrinking indie market before finding distribution from Monterey Media. I talked to Monaghan about the process of getting the film made, tapping into her mean side, and how to keep focused when her movie is advertised as being perfect for "awards season." She's a delightful interview, quick to laugh and open up about her career. Check out part of our video conversation below, and look for Trucker starting this Friday.
Your Daily Blend of Entertainment News
Staff Writer at CinemaBlend