Laurence Fishburne In Talks To Fight Cannibals In The Colony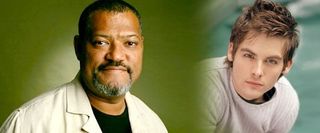 Laurence Fishburne, who battled infectious disease in Steven Soderbergh's Contagion, may soon be set to take on hoards of feral cannibals in the Canadian-produced indie The Colony. Set in a grim future where a new Ice Age has chased much of the remnants of mankind underground, this science-fiction thriller centers on a band of subterranean survivors who are forced to fend off a pack of ravenous cannibals at all costs.
Alcina Pictures, which is producing The Colony with Item 7 and Mad Samurai Productions, has been tightlipped on the project, looking to keep casting news under wraps until production begins on February 22nd. Yet THR has uncovered that Fishburne has entered final negotiations to join the $16 million feature, which will shoot through March in Toronto. Also in talks is Kevin Zegers, who memorably fought cannibalistic zombies in the 2004 remake of Dawn of the Dead. Unfortunately, at this time there are no details on what roles Fishburne and Zegers may play, so we have no idea which side of the cannibal divide they'll fall.
However, it seems with his stern and charismatic screen presence that Fishburne would be well suited to the role of a cool-headed survivor forced to rally his motely crew against their predators. But maybe it's the puzzling news that beloved fop Hugh Grant is playing a animalistic cannibal in the Wachowski siblings' Cloud Atlas that has me hoping Fishburne will go against type and play someone thoroughly merciless and menacing instead. As to Zegers, with his lean look and pretty boy face, I'd wager he will be a scrappy non-man-eating survivor. The question for him could be: will he fare better in The Colony than he did in Frozen?
Writer-director Jeff Renfroe (One Point O) will helm the post apocalyptic tale, based on a script he collaborated on with Patrick Tarr, Pascal Trottier and Svet Rouskov.
Staff writer at CinemaBlend.