Tribeca Video Interview: The Bang Bang Club's Malin Akerman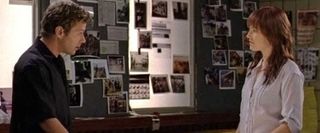 Behind every great man, there's a great woman, right? Well, that's certainly the case with the Bang Bang Club. While the real life photographer foursome risked their lives snapping images in the violent townships of South Africa at the end of Apartheid in the early 90s, photo editor Robin Comley held things together at the office, ensuring their work was seen and also just keeping them as level-headed as possible while working in the midst of such a devastating environment.
In the film version of the Bang Bang Club's story, Malin Akerman assumes the role of Robin Comley. The film kicks off as Greg Marinovich (Ryan Phillippe) is inducted into the group and hits the dirt alongside Kevin Carter, Joao Silva and Ken Oosterbroek (Taylor Kitsch, Neels Van Jaarsveld, Frank Rautenbach). Together they were seemingly unstoppable, dashing into the line of fire with no-fear attitudes and catching a slew of visually stimulating, some award winning, images. However, ultimately the danger and horror of the situation seeps in and the group is rattled emotionally and physically.
Akerman has revisited an old role in The Heartbreak Kid and brought a graphic novel character to life in Watchmen, but there's really nothing like portraying a real person on the big screen. Akerman was fortunate enough not only to meet Robin Comley, but to shoot the film in the same exact location in which the real events took place. Just before the film's Tribeca Film Festival debut, Akerman sat down to tell us all about her experience in South Africa, from working with Comley to diving into the local culture, shooting a particularly emotional scene in the film and much more. Hear it all for yourself in the video interview below.
Your Daily Blend of Entertainment News
Staff Writer for CinemaBlend.
Your Daily Blend of Entertainment News
Thank you for signing up to CinemaBlend. You will receive a verification email shortly.
There was a problem. Please refresh the page and try again.