Tribeca Video Interview: Handsome Harry Star Jamey Sheridan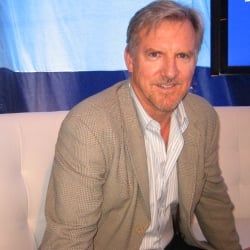 Odds are you've seen Jamey Sheridan in something, be it a handful of performances on Law & Order: Criminal Intent or supporting roles in movies like Syriana, The Ice Storm and Nothing but the Truth. But in Handsome Harry, his second collaboration with director Bette Gordon, you can't miss him. As the main character Harry Sweeney, Sheridan is in nearly every frame as his character grapples with an awful secret from his past by reuniting with his old Navy buddies.
As producer and star, Sheridan was a key element in getting Handsome Harry get made, and even convincing Gordon-- who also directed him in Luminous Motion-- to sign on. "I wanted her to direct, and I wanted to work with her. We were taking about this kind of stuff for a while, and I was telling her I thought she could direct men better than men could. " But Gordon wasn't so certain about handling the all-male cast featured here. "What she said was, 'Do you think I can direct a movie with six men, about six men?' I hope I was a support for her, because I kept saying 'Yes, yes, you're the only one to direct this!"
In our video interview below, Sheridan talks about tapping into a character as repressed and miserable as Harry Sweeney, and the twists and turns of the story in Handsome Harry. He also had an easy answer when I asked him if he identified with the lost souls of the movie who, at middle age, find themselves reflecting ruefully on where their lives have gone: "I have no regrets. I can't think of a regret."
Handsome Harry had its world premiere at the Tribeca Film Festival, and is currently seeking distribution.
Staff Writer at CinemaBlend
Your Daily Blend of Entertainment News
Thank you for signing up to CinemaBlend. You will receive a verification email shortly.
There was a problem. Please refresh the page and try again.