Tribeca Video Interview: Saint Director Dick Maas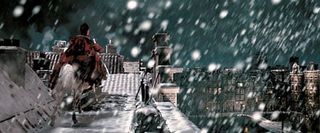 What if Santa Claus wasn't jolly, didn't bring presents on Christmas and well, were an evil killer back from the dead? Wonder no more because Dick Maas' Saint is here and it shows exactly what would happen should Old Saint Nick turn to the dark side.
The film opens up in 1492 when Saint Nick is burned alive for attacking a small town in Amsterdam. Years later, he's back looking rather charred, but packing one heck of a vengeance. With the help of his evil Saint Peters, Nick trounces around modern Amsterdam on Christmas Eve, not delivering presents, rather trying to accumulate as a high a body count as possible.
Just before the film's North American premiere at the Tribeca Film Festival, Dutch writer-director Dick Maas sat down to give us the details on the entire process from writing Saint to defying genre conventions to designing his evil Saint Nick and more. You can hear all about it straight from Maas himself in the video interview below and if you don't mind putting a twisted spin on Christmas, you can catch Saint when it hits theaters later this year courtesy of IFC Midnight.
Your Daily Blend of Entertainment News
Staff Writer for CinemaBlend.
Your Daily Blend of Entertainment News
Thank you for signing up to CinemaBlend. You will receive a verification email shortly.
There was a problem. Please refresh the page and try again.