Universal Takes Another Crack At The Nutcracker For The Big Screen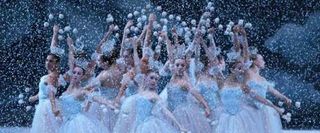 Because I'm one of about 60 people in the entire United States who actually saw any part of last December's The Nutcracker 3D, I don't really feel like it's bragging to say I saw some advance scenes at the screening room belonging to Universal Pictures. It wasn't a Universal release-- the distributor was Freestyle Pictures-- but for whatever reason the presentation was held in Universal's theater. Lucky for them, I'm probably the only person who will ever associate Universal with that disastrous film, which grossed just $195,000 domestically, since Universal is moving forward with their own take on the classic Tchaikovsky ballet.
According to Variety Peter Chernin, the former CEO of Fox who's now a producer of movies like Rise of the Planet of the Apes, has teamed up with Universal and fellow producer Dylan Clark to develop the pitch from Jon Gunn and John Mann. Those writers have no produced titles to their names, but they're working on the Magic 8 Ball movie at DreamWorks, and if anyone has worked at their script and decided they've built a good story around a toy, they're probably geniuses. Of course, they've got a lot more to work with on The Nutcracker, the famous story of a little girl transported on Christmas Eve to a magical world of the Sugar Plum Fairy and the Mouse King. There's plenty of built-in conflict and imagination and even the music to go along with it-- Tchaikovsky's work, as you probably well know thanks to the use of Swan Lake in Black Swan, has long since moved into the public domain.
Chernin is also producing Universal's upcoming Obliviion with Tom Cruise, which shoots in January and which may guarantee that The Nutcracker won't go into production until that is finished. Whichever year this comes out, though, I'd probably count on a holiday season release, and hopefully one that grosses more than the $14 million The Nutcracker 3D made worldwide.
Your Daily Blend of Entertainment News
Staff Writer at CinemaBlend