Video Interview: The High Cost Of Living's Zach Braff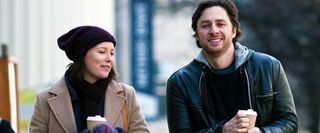 Helmed by first time feature director Deborah Chow, The High Cost of Living stars Braff as Henry Welles, a New York native living in Montreal selling prescription drugs. While going about his business, Henry hits a woman named Nathalie (Isabelle Blais) with his car. Luckily, Nathalie survives the accident, but her unborn baby does not. While Nathalie struggles to cope with her loss, so does Henry, as he's desperate to find even the slightest degree of redemption.
While this may fall into Braff's playing field when it comes to the sheer size of the production, in terms of content, The High Cost of Living is far more emotional than anything he's done before and that's exactly what Braff was looking for, something so challenging it scared him. While the atmosphere on set was a little on the gloomy side thanks to the subject matter, it was a fantastic environment for breeding good work.
Check out everything Braff had to say about working on The High Cost of Living as well as his upcoming play, All New People, and a brief look way back to the day when he was a potential for the new Fletch film in the video interview below. And, if there are any studio executives reading, should you have a top-notch script, Braff is ready for his trailer, massage and big-budget experience.
Your Daily Blend of Entertainment News
Staff Writer for CinemaBlend.
Your Daily Blend of Entertainment News
Thank you for signing up to CinemaBlend. You will receive a verification email shortly.
There was a problem. Please refresh the page and try again.