Video Interview: Prom's Golden Couple, Kyle Bunbury And DeVaughn Nixon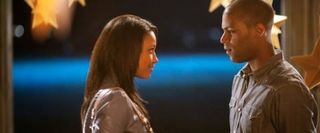 At some proms everyone is in suspense to see who will be named Prom King and Queen as the night wraps up. Other times, the royalty are a forgone conclusion-- the most popular boy and girl school who always have these things locked up. That's the case at Brookside High in Disney's new film Prom, where not only are Jordan and Tyler the most popular, they're also the school's cutest couple. As with so many "perfect" couples though, Jordan and Tyler aren't exactly as happy as they might seem on the surface.
Playing Jordan and Tyler in Prom are Kylie Bunbury and DeVaughn Nixon, whose acting careers are as different as you can imagine. As Kylie describes it, Prom is "my first anything"-- she's had no professional acting career until now. DeVaughn, on the other hand, started in the business as an infant. When I talked to them on location at John Burroughs Middle School, where Prom was filmed, they explained how their different experiences in the movie business helped them work well together, and each picked a favorite teen movie that they think is essential viewing for anyone who enjoys Prom.
I'll be bringing you interviews with all the stars of Prom, plus the movie's screenwriter, throughout the week, so keep checking back before catching Prom in theaters this Friday.
Your Daily Blend of Entertainment News
Staff Writer at CinemaBlend