Video Interview: Prom's Good Girl And Bad Boy, Aimee Teegarden And Thomas McDonell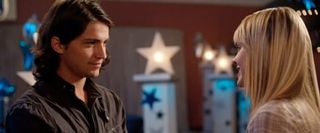 Throughout the week I've been bringing you interviews with the main cast of Disney's Prom-- you can go here for the full collection. And while Prom is an ensemble movie, consisting of lots of different stories about kids at a Midwestern high school getting ready for the big night, the center of the story is the unlikely romance between Nova, the overachieving girl who was too busy planning prom to actually secure a date, and Jesse, the rebellious loner who is way too cool to attend anything resembling prom. The two are forced to work together to make sure prom actually happens, and wouldn't you know it, in the process they might just be falling in love.
Aimee Teegarden, who plays Nova, might be the biggest name in the Prom cast thanks to her roles on Friday Night Lights or even in the recent Scream 4. Thomas McDonell on the other hand, as Jesse, has just a handful of credits to his name, and stumbled into acting by accident while studying art in China a few years ago. When I talked to them on location at John S. Burroughs MIddle School, where Prom was filmed, I admit we were getting a little loopy-- they got each other giggling about food trucks and where you might keep a pie for about a solid minute before I could get any answers out of them. But you know what? After a long day of repetitive junket interviews, it was nice for all of us to indulge in a little silliness as well.
Check out the interview below, and see Prom in theaters this weekend.
Your Daily Blend of Entertainment News
Staff Writer at CinemaBlend