Blade Runner Blu-Ray Scales Back To One Disc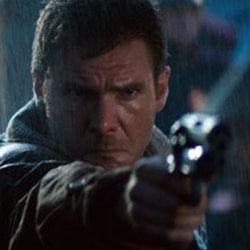 Blade Runner has been released on Blu-Ray in several formats, albeit grandiose ones: the first is an Ultimate Collector's Edition packaged in a custom briefcase and the other is a five-disc Complete Collector's Edition. On January 4th, 2011, Warner Home Video will be releasing a single-disc version of the film for $24.98. Granted, you can get the five-disc Complete Collector's Edition for roughly 30 bucks on Amazon, but I wouldn't recommend spending the extra few dollars unless you are super interested in all five different versions of the film.
Don't get your panties all in a twist: the one-disc collection does contain a couple of special features, including an introduction by Ridley Scott and commentary from several of the people involved in the making of the film. Obviously, if you do happen to be about all things Blade Runner, this isn't the release you're going to want to buy, as it is geared toward those of us namby-pambies who aren't too excited about mass amounts of special features.
Don't worry, you still have almost a month to figure out which version is for you.
Your Daily Blend of Entertainment News