Anthony Hopkins And Dustin Hoffman Unite For The Song Of Names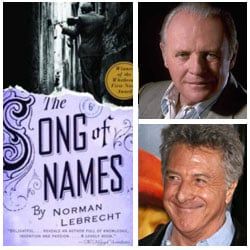 The Song of Names is set to star Dustin Hoffman and Anthony Hopkins, come from the pen of Jeffrey Caine and will feature a James Horner score. Think this one has "Oscar" written all over it? Horner has two statues on his shelf, as does Hoffman while Hopkins boasts a sole Oscar for his performance in The Silence of the Lambs and Caine a nomination for The Constant Gardener. And how could I forget? As reported by THR, the man helming this picture is three-time Oscar nominee Vadim Perelman.
To top it all off, the film is based on Norman Lebrecht's highly acclaimed novel about two Jewish boys growing up in London. Martin is a native Brit who befriends a Warsaw refugee and violin prodigy named Dovidl. When Dovidl mysteriously vanishes, Martin is left confused and heartbroken. It isn't until 40 years later that Martin finally gets the opportunity to find out what happened to his old friend.
What more is there to say? The Song of Names is a gem in the making. Hoffman and Hopkins will undoubtedly make for an ideal leading duo and under the direction of House of Sand and Fog's Perelman, a man who certainly knows how to handle a book-to-film adaption, they'll likely be at their best.
Your Daily Blend of Entertainment News
Staff Writer for CinemaBlend.