David Goyer Enters 'The Breach' For Lionsgate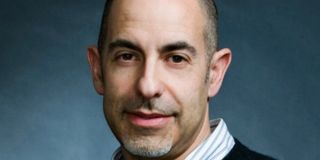 Nerds, for better or worse, should probably worship at the altar of David Goyer. The guy kickstarted the comic book movie boom and rescued Marvel from financial insolvency by penning the Blade series. Then Warner Bros. recruited him to help re-invent Batman with Christopher Nolan. The WB also kept him on for Man Of Steel, and now Goyer is providing the blueprint for their entire comic-inspired shared universe. It's that sort of far-reaching influence that makes you forget some of the not-that-interesting credits on his resume. Just start with his TV producing credits for Freakylinks and FlashForward and work your way out from there.
Nonetheless, his name was strong enough to start a bidding war for his latest project, and Lionsgate is the victor. As per THR, Goyer is directing The Breach, an adaptation of a Patrick Lee novel being written by Justin Rhodes (Grassroots). Big shot producer Lorenzo di Bonaventura (Transformers) is also behind the scenes of this package, one Goyer and di Bonaventura developed independently, ultimately attracting the interest of Fox, Warner Bros., Relativity and Millennium.
The book, which sounds ridiculous, centers around Travis Chase, both an ex-con and an ex-cop, who uncovers the remains of a crashed 747. Within the remains, which include the body of the First Lady, Chase uncovers the passengers' relationship with a mysterious organization called Tangent, who are protecting a dangerous portal known only as… THE BREACH. And one of the most likely biggest lures that got Lionsgate involved has to be that, you guessed it… first of a trilogy. Oh Hollywood. You so predictable.
Goyer developed this, but it's important to remember that he's only directing. Rhodes has garnered a lot of attention in Hollywood, and is currently writing Unmanned for Keanu Reeves. But to place the directorial reigns in Goyer's hands is… sort of a risk? Goyer's debut, Zig Zag, is a curiously inert coming-of-age drama that benefits primarily from a loaded cast. But once he had to step up to the big leagues, his first large budget directorial effort was Blade: Trinity, where it was assumed that after two awesome movies, all people needed to see in that series was Blade fighting some shirtless dude in purple pants who called himself Dracula but mostly just walked around in slow motion.
His teen thriller remake The Invisible was similarly low-rent and TV-bound, and the horror hit The Unborn simply recycled every exorcism possession cliché you could imagine. Even if you're making business decisions, it seems like the right move with Goyer is to limit him to low budget schlock. Having him on as a writer or producer could be beneficial when starting a franchise: heck, the guy wrote Dark City, some respect should be paid. But Hollywood artisans are not swiss army knives, and not everyone adjusts well from one role to the next. Goyer's an accomplished writer and producer, with a shaky eye for quality material but a proven track record of success. Does that really mean you'd want him in the director's chair for the start of a new franchise?
Your Daily Blend of Entertainment News
Thank you for signing up to CinemaBlend. You will receive a verification email shortly.
There was a problem. Please refresh the page and try again.