Exclusive Video Interview: Let Me In Star Richard Jenkins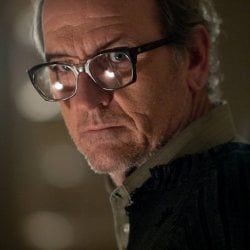 For as many doubts as we all had about Matt Reeves's plan to remake the Swedish vampire love story Let the Right One In as the Americanized Let Me In, the minute we learned that Richard Jenkins had been cast as the mysterious, nameless father figure to Abby (Chloe Moretz), it felt perfect. The versatile character actor didn't just look the part, with his craggy face and ability to look beaten-down with a single shrug of his shoulders, but just off his Oscar nomination for The Visitor, Jenkins was in the process of proving to a wider audience that he had the ability to play virtually any role thrown his way.
When I got the chance to interview Jenkins at San Diego Comic Con back in July, I hadn't yet seen Let Me In, and asked him a little about the changes between the character in the original film and the new one, and a lot about his working relationship with Moretz, who you'll know from the original movie isn't exactly the daughter she initially appears to be. Now that I've seen Let Me In I can tell you, as if you had any doubt, that Jenkins is fantastic in the role, soulful and menacing and vulnerable all at the same time. His onscreen relationship with Moretz is pretty lovely as well, tender while always maintaining that dark, literally bloody edge to it.
With Let Me In hitting theaters tomorrow, check out my video interview with Jenkins, in which we talk about his long career playing dads, working with child actors, and even a little bit about Cabin in the Woods, the upcoming horror movie he made with Matt Reeves's pal Drew Goddard.
Staff Writer at CinemaBlend
Your Daily Blend of Entertainment News
Thank you for signing up to CinemaBlend. You will receive a verification email shortly.
There was a problem. Please refresh the page and try again.