Tribeca Video Interview: The Bang Bang Club's Taylor Kitsch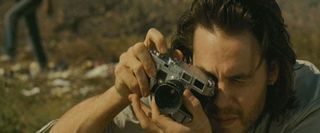 Back in 1993, photographer Kevin Carter snapped an unforgettable photo of a malnourished young Sudanese girl and a vulture. While the photo earned Carter a Pulitzer Prize and a great deal of fame and fortune, it also came with a significant amount of stress stemming from critics calling the shot a fluke, questioning Carter's ethics and simply the pain of having witnessed a child in such terrible conditions.
However, for a great deal of the film The Bang Bang Club, this troubled soul is the life of the party. The film is based on the true story of a group of four photographers snapping mid-combat images in post Apartheid South Africa. Taylor Kitsch stars as Kevin, the fun-loving and friendly guy who welcomes newcomer Greg Marinovich (Ryan Phillippe) with opens arms. Kevin is incredibly energetic and certainly enjoys a drink after a hard day's work, but eventually the severity of the situation eats away at Kevin's spirit and the fun-loving photographer begins to disappear.
Clearly this is quite a challenging role for Kitsch. Not only does the character himself have an incredibly intense arc, but Kitsch also had to go through a great deal of preparation from learning how to use the same camera Kevin used back in the 90s to losing a great deal of weight. On top of that, Kevin is a real person and an iconic one at that; Kitsch had to do Kevin's work and his life justice.
Check out everything Kitsch had to say about working on The Bang Bang Club while promoting the movie at the Tribeca Film Festival in the video interview below.
Your Daily Blend of Entertainment News
Staff Writer for CinemaBlend.