Tribeca Video Interview: Cheryl Hines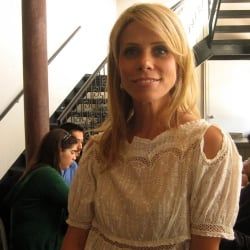 Cheryl Hines was worried that she would cry in front of a bunch of people on Saturday night. Not that that's out of the ordinary for an actress, but when it came to the premiere of Serious Moonlight, the circumstances were a little different. "What if I start crying during the introduction?" Hines asked me during an interview the day before the premiere. "I'm not much of a crier. That would be so weird!"
The Serious Moonlight premiere is special not just because Hines might cry, or because her whole family has come to New York to see it, or even because the movie marks her directorial debut. It's also the last finished script by the actress and director Adrienne Shelly, who directed and co-starred with Hines in Waitress before being murdered in 2006. Shelly's husband, Andy Ostroy, contacted Hines about directing the film, which she says was "completely out of the blue." Before too long she was on a set directing Meg Ryan, Timothy Hutton, Kristen Bell and Justin Long in this dark comedy about a woman who ties up her philandering husband in order to get him to work out their marriage.
But while the comedy elements are still there, don't expect something exactly as light as Waitress. "It is darker. It's much darker than waitress, but at the same time, it has that feeling of, oh, is this a comedy or this a drama? Which Waitress did too. There are twists and turns in it that make it really fun to watch. "
In the video below we talk to Hines about the learning experience of directing her first movie, including working with directors: "I've always been the actress who's like-- 'Here, can you juggle monkeys while you say that?' 'OK!' But not everybody works like that." She also gives a teensy bit of detail about the upcoming season of Curb Your Enthusiasm. Check the whole funny, gracious interview with the funny and gracious Hines below.
Your Daily Blend of Entertainment News
Staff Writer at CinemaBlend