Tribeca Video Interview: Grave Encounters Writer-Directors The Vicious Brothers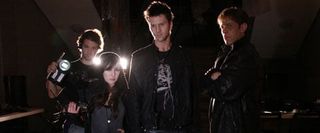 Stuart Ortiz and Colin Minihan are The Vicious Brothers. Who? The Vicious Brothers, a writing-directing duo that are here to offer something different and make an impression and, let's face it, are you ever going to forget that moniker?
For their feature debut, they've created Grave Encounters, a horror film focusing on the cast and crew of a ghost-hunting reality show also called "Grave Encounters." As their next project, the team is taking on the Collingwood Psychiatric Hospital. The facility caretaker locks them in for the night and the group goes to work hunting down the resident ghosts. Then again, they don't really expect to find any spirits, so when some rather malicious ones make their presence known, the "Grave Encounters" crew is caught between the excitement of having some truly creepy action to shoot and the horrifying reality of their situation.
Grave Encounters is far more than just another found footage film to the writing-directing duo, The Vicious Brothers; it's their opportunity to push the sub-genre one step further. While some of the ghosts in the film were enhanced with CGI in post, much of what we see on screen was physically there and made the 12-day shoot especially realistic feeling and, in turn, a pretty damn scary experience in and of itself.
In honor of Grave Encounters' Tribeca Film Festival premiere, The Vicious Brothers sat down to tell us all about the creation of that unforgettable signature, working as co-directors on the set of the film, their effort to infuse their own style in the found footage format and much more. For anyone with a taste for horror films, this is a duo to keep an eye on and considering Grave Encounters is already making waves and they've got some potential plans lined up for the future, there will likely be much more Vicious entertainment to come.
Staff Writer for CinemaBlend.
Your Daily Blend of Entertainment News
Thank you for signing up to CinemaBlend. You will receive a verification email shortly.
There was a problem. Please refresh the page and try again.