Tribeca Video Interview: Janie Jones' Alessandro Nivola And Abigail Breslin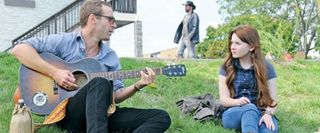 Thanks to Little Miss Sunshine, we know Abigail Breslin has some dance moves... kind of. But since when can she sing? Her Janie Jones co-star, Alessandro Nivola, already had some musical ability having sung in Laurel Canyon, but Breslin was going in cold. Well, as quickly as this young actress adapts from character to character is as quickly as she picked up on singing and guitar-playing because she and Nivola successfully take their performances one step further in David M. Rosenthal's Janie Jones, creating not only compelling characters, but a fantastic soundtrack, too.
Nivola plays Ethan Brand, the front man in a band whose tour is interrupted when an ex-fling decides it's time to introduce him to his daughter, Janie Jones. When mom splits and leaves Janie behind, Ethan's left with no choice, but to take her in and let her hit the road with the band. Trouble is, not only is Ethan incredibly uncomfortable with playing dad, but he's harboring an alcohol problem as well. When everything boils over and he teeters on the edge of losing everything he's worked for, the only one capable of grounding him is the loving and talented daughter he never even knew he had.
As nerve-racking as it was for Breslin to adapt to singing and playing the guitar, one of the most jarring changes was that of the actor playing her dad. Nivola stepped in just days before shooting began and only met Breslin the day before the camera rolled. (Or so they claim. It could all be CGI, couldn't it?) Anyway, in honor of Janie Jones' US Premiere at the Tribeca Film Festival, Nivola and Breslin sat down to tell us all about their roles, experience working together, their next projects and much more. Check it all out for yourself in the video interview below and keep an eye out for the film, which is due out in theaters and on VOD this summer.
Your Daily Blend of Entertainment News
Staff Writer for CinemaBlend.