Tribeca Video Interview: Josh Lucas And Michael Cuesta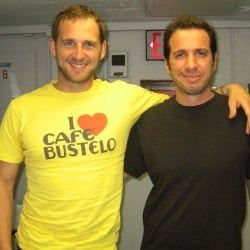 If all you've ever seen of Josh Lucas is Sweet Home Alabama, and all you've ever seen of Michael Cuesta is L.I.E., you might be confused to see the two of them team up for Tell Tale, a psychological thriller debuting at this year's Tribeca Film Festival.
But after talking to the two of them the day after the film's premiere, it's clear that the actor and the director had the same goals in mind going in to make this deeply dark film. In Tell Tale, Lucas plays a single father who has recently received a heart transplant and is trying to get back to normal life. It soon becomes clear, though, that the previous owner of this heart is trying to send him messages to solve the mystery of his death. Lucas's character soon embarks on a kind of vigilante mission, but to avenge the death of someone he never met.
If a mysteriously beating heart sounds familiar, it's because the movie is inspired by Edgar Allan Poe's story "The Tell-Tale Heart." But it's not just a literary pedigree that sets Tell Tale apart. For one, even though there's blood and action, this is not your typical horror film. "There's a real sense that someone's doing a physical act of damaging or destroying another life. What that then entails, in the intense ugliness of it. You see films sometimes that it's just fun gore. I think there's a place for that, but it's not what interests me. When you're around real violence, it's shocking."
Indeed, there was a shocking moment at the film's premiere, in which an audience member suffered some kind of attack-- a heart attack or a seizure-- during the film's climax. The film was paused and the lights went up while the man received help, but after it was clear that he was fine, the show went on.
I discussed that unsettling turn and events and plenty more in my video interview with Lucas and Cuesta, held at the DirecTV Tribeca press center. You can watch segments of the video interview below. For tickets and more information about Tell Tale, here.
Your Daily Blend of Entertainment News
Staff Writer at CinemaBlend