Video Interview: Cracks' Eva Green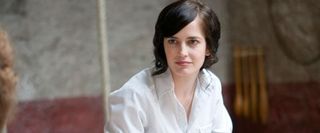 Think you know Eva Green from The Golden Compass or maybe Casino Royale? Think again. Actually, if you're a fan of the show Camelot, you might already have a sense of what Green is capable of. As she put it herself in an interview with Collider, her character isn't evil, "I see her more as damaged," and that idea of misinterpreted malevolence is certainly present in Green's latest film, Cracks.
Green plays Miss G, a teacher and diving coach at an all-girls boarding school. She is so close to the girls on her team, she practically becomes like a mother to them – or maybe a sister – or perhaps a friend. That's exactly Miss G's problem; she has a hard time figuring out how close is too close, and when she's pushing the limits when it comes imparting her own philosophies on the girls. When she gets a new recruit, a young Spanish girl named Fiamma (Maria Valverde), Miss G's boundaries crumble entirely and the results are devastating.
This role would certainly be a challenge for any actress, but director Jordan Scott was confident enough in her abilities to forgo the audition process and go straight for Green. Still, being able to bring Miss G to life was going to take a lot of time and energy from every front – rehearsals, hair and makeup, wardrobe and more. In honor of the film's March 18th release, Green sat down to tell us all about inhabiting Miss G's twisted mind. Check it all out in the video interview below.
Your Daily Blend of Entertainment News
Staff Writer for CinemaBlend.