Video Interview: Drive Director Nicolas Winding Refn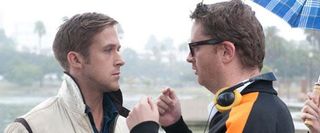 Drive is a fairly intricate movie. The plot is simple enough – Ryan Gosling's Driver falls for Carey Mulligan's Irene, only to find out her family is being threatened by notorious mobsters. Gosling's character puts his superb driving skills to use to help keep Irene and her young son stay safe. But director Nicolas Winding Refn takes the piece a giant leap further, not only dousing Drive with a unique style and tone, but also with his incredible attention to detail. Everything in Drive has a reason; every element has a value and that's something you'd think would require a great deal of preparation – but not for Refn.
In honor of the film's September 16th release, Refn sat down to talk about his experience bringing James Sallis' book to life. Surprisingly, Refn isn't working with detailed script notes or even a shot list; elements went into this movie as they came to Refn's mind and a great deal of that happened in the midst of shooting. When we're used to seeing filmmakers assemble features based on studio standards, something like Drive sticks out, for this isn't a piece that conforms to anyone's preferences except Refn's. Hear more about his process in the video interview below.
Your Daily Blend of Entertainment News
Staff Writer for CinemaBlend.
Your Daily Blend of Entertainment News
Thank you for signing up to CinemaBlend. You will receive a verification email shortly.
There was a problem. Please refresh the page and try again.