Video Interview: My Life In Ruins Director Donald Petrie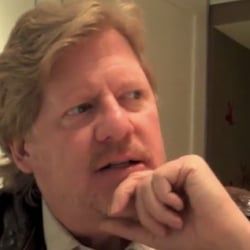 Donald Petrie is a guy who knows women. He admits himself, half-jokingly, "I guess there's a lot of woman in me." But there has to be something going on for a 55-year-old man to have directed such a string of female driven hits, from Mystic Pizza back in 1988 to How to Lose a Guy in 10 Days.
Petrie is back this summer with My Life in Ruins, in which My Big Fat Greek Wedding star Nia Vardalos heads to Greece herself, playing a tour guide shepherding a group of cranky, crazy tourists around historical Greek locations. Petrie says he had to be extra-careful reading the script for this one, making sure it wasn't just the lush Greek scenery drawing him in. "I have a theory that says there is an inverse quality to qualit of script and desirability of location. If if it takes place in Greece in these amazing places, it's going to be a terrible script."
Luckily for Petrie, it wasn't, and he, Vardalos and a motley crew of actors got on the bus in Greece to start making My Life in Ruins. In the video interview below we talk about the difference between the Greece of picture postcards and the Greece of this movie, the torture he made the sound guy endure, and how to be the boss on a set when 17 characters are all trying to have their say. My Life in Ruins opens this Friday.
Your Daily Blend of Entertainment News
Staff Writer at CinemaBlend