Video Interview Part Two: Punching The Clown's Henry Phillips And Gregori Viens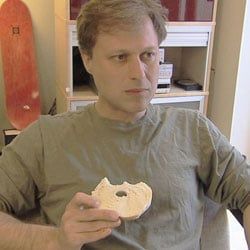 And so it continues …
The second portion of our Punching the Clown interview with writer-director Gregori Viens and his co-writer and the film's star Henry Phillips is here and it picks up right where the first part left off; the lengthy pre-production stage is behind us and now filming is underway. Again, Viens and Phillips approached this portion of the production in an unconventional manner designed according to their minimal resources. Even more notable, the guys discuss what would have happened to Punching the Clown had they gone the Hollywood route as originally planned and their take on the issue is particularly noble in relation to the creative process.
But wait, there's more: Phillips didn't only show up to the interview with coffee in hand, but his guitar, too! Check out the first part of interview here and the second part below as well as a clip of Phillips playing a song he's working on for his upcoming CD "LA Dream."
Your Daily Blend of Entertainment News
Staff Writer for CinemaBlend.
Your Daily Blend of Entertainment News
Thank you for signing up to CinemaBlend. You will receive a verification email shortly.
There was a problem. Please refresh the page and try again.