Video Interview: Prom's Sophomores, Danielle Campbell, Nolan Sotillo And Cameron Monaghan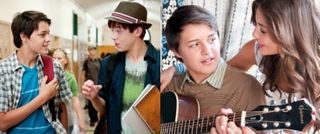 It's not just the college-bound seniors who get wrapped up in prom every year-- juniors, sophomores and even freshmen can hold out hope that they'll be invited by an upperclassman, or at least get in some of the pre-prom excitement. In Disney's Prom coming out this Friday, Danielle Campbell, Nolan Sotillo and Cameron Monaghan play three hopeful sophomores, though Danielle has higher hopes for prom than most-- she plays Simone Daniels, a sweet and slightly naive girl who's been dating the school's most popular jock Tyler (DeVaughn Nixon), who swears he's about to break up with his girlfriend and take Simone to prom intend.
Nolan and Cameron play two guys with slightly different things on their mind-- their characters Lucas and Corey are best friends with big plans to see their favorite band, Stick Hippo, on the night of prom. But their stories come together thanks to Lucas's giant crush on Simone, and of course it all comes to a head on prom night. When I talked to them on location at John S. Burroughs Middle School, where Prom was filmed, all three told me about their musical backgrounds, Danielle's plans to attend her real prom in Chicago next year with two dates, and just why prom is so important.
I'll be bringing you interviews with all the stars of Prom-- you can already watch my interview with Kylie Bunbury and DeVaughn Dixon, plus the movie's screenwriter, throughout the week, so keep checking back before catching Prom in theaters this Friday.
Your Daily Blend of Entertainment News
Staff Writer at CinemaBlend