Video Interview: Saw 3D's Costas Mandylor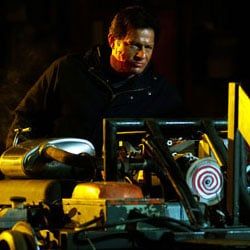 For anyone who's a fan of the Saw franchise, it probably comes as no surprise that I was a little intimidated to be talking to Costas Mandylor. He may have begun his run in the series playing Mark Hoffman as a mere officer investigating yet another Jigsaw crime scene in the third film, but from there he becomes an integral part of the story not only in Saw IV and beyond, but even in the first three films through new revelations.
Hoffman has been Jigsaw's accomplice all along and after John Kramer loses his life alongside his protégé Amanda, Hoffman and John's wife, Jill, are left to carry on the legacy. The problem is, Hoffman and Jill can't play nice and at the end of the sixth film, Jill puts Hoffman in the infamous reverse bear trap. What Jill doesn't know is that upon leaving him to die, he sacrifices some skin and bones to remove the device and survive.
And so here we are at the seventh and supposedly final film of the franchise. What's it like for Mandylor to have come so far? Is he sad to say goodbye to the family he's become a part of on the set? Is Saw 3D really the last one? Mandylor tells all in the video interview below, which was a total breeze for not only are the films near and dear to his heart, but also because Mandylor is as warm and friendly as they come.
Your Daily Blend of Entertainment News
Staff Writer for CinemaBlend.