Video Interview: Skateland Writer, Producer And Star Heath Freeman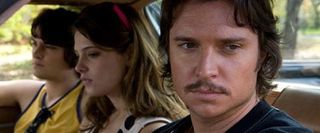 As if it isn't trying enough to make it in the acting world; even with success in the field having appeared on shows like Without a Trace, The Closer and Raising the Bar, Heath Freeman decided it was time to call the shots and go to work for himself. Along with the help of his brother, Brandon and Anthony Burns, Freeman went to work on a script called Skateland. However, Freeman's work wasn't complete once the script was locked and neither was his collaborators'. All three men assumed producing positions, Burns got behind the lens to direct and Freeman in front of it.
The film takes place in a small Texas town in the 80s. Shiloh Fernandez stars as Ritchie, a long time Skateland employee who has a tough time moving on when he learns the roller rink is due to shut down. His sister, Mary (Haley Ram), and friend, Michelle (Ashley Greene), see this as the perfect time for Richie to finally break away and live up to his potential, but making the transition isn't easy especially with an influence like Freeman's character. He plays Brent, a former aspiring pro motorcycle rider whose hopes are dashed by an accident. Now, he's back in town and all that he has is what he left behind – booze, his buddies and his talent for picking up high school girls.
Skateland was quite the undertaking for Freeman in every way possible. Not only was this an entirely new experience for Freeman in terms of writing and producing, but Brent was one of his most significant big screen roles yet. However, with good friends, family and talented filmmakers by his side, Freeman dove in headfirst and brought his story to life. In honor of the film's May 13th release, Freeman sat down to tell us all about the entire process from joining forces with his brother and old pal to balancing all three of his duties and what's next for his production company, Freeman Film. Check it all out in the video interview below.
SPOILER ALERT: At 6:45 there is a major story spoiler! The spoiler ends at 7:13.
Your Daily Blend of Entertainment News
Staff Writer for CinemaBlend.
Your Daily Blend of Entertainment News
Thank you for signing up to CinemaBlend. You will receive a verification email shortly.
There was a problem. Please refresh the page and try again.