Video Interview: There Be Dragons Star Wes Bentley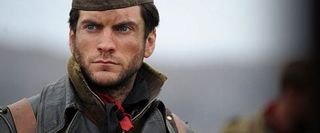 Actor Wes Bentley had a lot working against him when it came to shooting Roland Joffé's latest, There Be Dragons. Not only was he struggling with personal issues, but the role itself posed a number of difficulties, specifically having to play both a young and older version of his character and simply the necessity of studying up on the historical background of the piece.
Bentley stars as Manolo, the childhood friend of Josemaría Escrivá (Charlie Cox), the saint and founder of Opus Dei. As kids they were the best of friends until family difference tore them apart. They reunited in a seminary, but once again are driven away from one another, Josemaría to follow his desire to fulfill his training and become a priest and Manolo's to fight in the Spanish Civil War. While Josemaría's life brims with honesty and faith, Manolo opts to fight dubiously; he embeds himself in a rebel group and spies for the government. Further complicating his situation, Manolo falls for a Hungarian radical who doesn't have eyes for him, rather their esteemed leader, Oriol (Rodrigo Santoro). A good portion of this tale is told by Manolo himself, who, in the early 80s, on the brink of death, is reluctantly compelled to recall these memories for his own son who's writing a book about Josemaría.
See? Not only does There Be Dragons span an expansive length of time, but also requires Bentley to show Manolo's many sides and experiences in a matter of two hours. Well, Bentley, his co-stars and the film's crew pulled it off and today, May 6th, There Be Dragons hits theaters in the US. Earlier this week Bentley sat down to tell us all about his research for the role, channeling his personal troubles into the part and how fantastic and life changing this experience turned out to be. Check it all out for yourself in the video interview below.
Staff Writer for CinemaBlend.
Your Daily Blend of Entertainment News
Thank you for signing up to CinemaBlend. You will receive a verification email shortly.
There was a problem. Please refresh the page and try again.