Video Review: Is Sanctum Bad Fun, Or Just Plain Bad?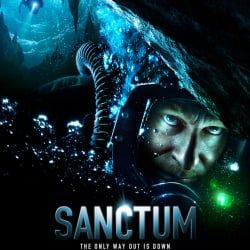 Just a day after coming back from Sundance and adjusting to the sea-level altitude, Matt Patches and I were ready to go back the movies with something about as different from a Sundance film as we could imagine: Sanctum, the James Cameron-produced cave diving epic, filmed in glorious 3D. Neither of us were expecting all that much out of it, but as it turns out we disagreed on the film more than anything we'd seen together at Sundance. That's right: after 10 days of covering a festival together, Patches and I were finally torn apart by the cave diving movie.
You can read my review for my full thoughts on the movie, but if you want to watch a little verbal sparring and get a glimpse of the gross snowbanks lining every street in New York City right now, check out the video blog below. Special thanks to Eric Vespe, a.k.a. Quint of Ain't It Cool, for traveling all the way from Austin to hold the camera for us.
Your Daily Blend of Entertainment News
Thank you for signing up to CinemaBlend. You will receive a verification email shortly.
There was a problem. Please refresh the page and try again.