Blade Runner 2049 May Lose At The Box Office This Weekend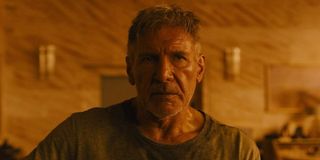 Blade Runner 2049 will be in its second weekend at the box office when new movie Happy Death Day comes out, and it doesn't look as if the pairing will be good for the sequel to the 1982 classic. After a lower-than-expected intake last weekend, Blade Runner 2049 may actually lose at the box office to the low budget Blumhouse horror feature. Here's what we know.
New reports indicate that Happy Death Day may manage to win the weekend. The new movie was made on a $5 million budget, but it looks as if it will make that chunk of change and more this weekend. In fact, early estimates indicate that Happy Death Day will bring in $15-$20 million domestically. That's not such a high amount that Happy Death Day is guaranteed to beat Blade Runner 2049, but the LA Times says the latter movie is expected to bring in about $15 million this weekend, so there's a good chance that Happy Death Day will be tops come Sunday. The Foreigner, the new flick starring Pierce Brosnan and Jackie Chan, is expected to make around or over $10 million in the States and could make up to $14 million, so I guess it's a dark horse in this race, too.
Blade Runner did decently on specific nights last weekend, but it's three-day total still fell short of expectations. Estimates prior to release anticipated that Blade Runner 2049 would bring in $45-$50 million during its opening, and the movie actually ended up bringing in $32.8 million--not exceptional for a movie that cost $150 million to make. Movies often drop at the box office after the first weekend by 50% or more, so an intake of around $15 million this weekend would make sense for Blade Runner 2049.
As you may have seen simply from this article, box office estimates don't always end up being exactly accurate, but it wouldn't be a shock to see Happy Death Day slide right through for the win. The movie should appeal to a wider audience than the average horror film, as it is often more about being funny than it is about being grotesque or overly scary, and it takes its connection to Groundhog's Day to heart. Its college setting should also appeal to a younger audience, and now is probably a good time to note that Blade Runner 2049 had trouble attracting younger audiences last weekend. Still, we'll have to wait and see how the numbers shake out, of course.
In the meantime, take a look at what else is going to premiere before the end of the year with our full schedule, and of course, we have to ask--what movie do you plan on seeing this weekend?
This poll is no longer available.
Amazing Race & Top Chef superfan with a pinch of Disney fairy dust thrown in. If you've created a rom-com I've probably watched it.
Your Daily Blend of Entertainment News
Thank you for signing up to CinemaBlend. You will receive a verification email shortly.
There was a problem. Please refresh the page and try again.