Boys Vs Girls In America's Best Dance Crew Finale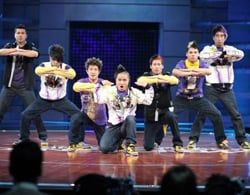 Can a girl crew finally win? Does Quest Crew have an unfair advantage with Hok and Dominic in their crew? Who is America's best dance crew? The answer is probably the Jabbawockeez, but both the Beat Freaks and Quest Crew stand a damn fine chance of becoming the best crew this year.
I actually just caught on to this show a few weeks ago – I had heard Chemda talk about it on Keith and the Girl – and thought that if they had real dancers I'd give it a shot. My first taste was the 11 minute clip of all of the Jabbawockeez performances in season 2. I was hooked. Finally I wasn't being duped into a lame dance show like Dancing with the Stars. This is real talent laying it all out on the stage. Mario Lopez is corny, but that's more than made up for by the dancing.
Up until last week's episode I had thought the all girl Beat Freaks were frontrunners. While great, it seemed that Quest was getting a pass from fans at times for having two members from So You Think You Can Dance. Now this is pretty much a lock for Quest, unless left over good will sends Beat Freaks to the $100,000 prize. Seriously, did you see Quest Crew's performance? It was absolutely amazing.
Tune in tomorrow night, March 5, at 10:00 pm ET to find out who is America's Best Dance Crew.
Your Daily Blend of Entertainment News
Staff Writer at CinemaBlend.