Da Vinci's Demons Gets Eight Episode Order From Starz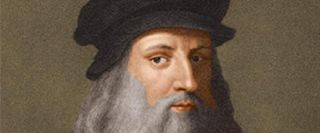 Starz has given a series order for Da Vinci's Demons, the David Goyer and BBC Worldwide Prods. project that will be the first to be born of the deal between Starz and BBC Worldwide. Starz is jumping right in to this one, having officially ordered eight episodes to begin filming in the beginning of the new year for a premiere in 2013, Starz announced today.
Goyer (The Dark Knight co-writer) will serve as showrunner, executive producer and writer for the series, which is about famed inventor, artist and great thinker Leonardo Da Vinci in his youth. The series promises to show a wild and brazen Da Vinci at 25 years old – brilliant, unstoppable and the definition of the term "Renaissance Man". We tend to think of Da Vinci as an old man, but this portrait of him in his younger days promises a look at the legendary man that is different from the usual portrayal, exploring a new aspect of his story. Goyer is thrilled to be working on the project with Starz:
The historical fantasy will bring to life an almost mythical figure in history, something David Goyer does particularly well albeit with characters that actually are mythical. The series will take its place among the strong and ever-growing Starz lineup that now includes the recently premiered Boss starring Kelcey Grammar, Spartacus: Vengeance which is slated for a January 2012 return, and Magic City, a period drama that will premiere in April. Too bad for Netflix that they have lost their Starz streaming contract because the new and upcoming Starz lineup is looking really good.
Your Daily Blend of Entertainment News
Thank you for signing up to CinemaBlend. You will receive a verification email shortly.
There was a problem. Please refresh the page and try again.