HBO's Hard Knocks Cancelled In 2011, Will Return In 2012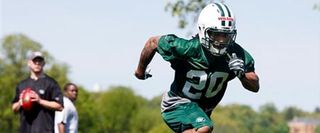 Football may live on, but Hard Knocks, the HBO series that follows an NFL team through its pre-season training rigors, has been canceled for the season. The popular HBO program, which was set for five episodes in 2011, will be replaced by a short special. Tentatively noted as the Tenth Anniversary Hard Knocks Special, the 90-minute program will focus on highlights of the past ten seasons of Hard Knocks.
HBO Sports and NFL films have not made the Hard Knocks cancellation decision to punish teams for lockout issues. The problem arose because the lockout, which only ended July 25, put a time crunch on the offseason and training time. Because lockout negotiations were so uncertain, they have been instrumental in keeping an NFL team from signing on for Hard Knocks.
The truth is, even if HBO Sports could finalize a contract with some NFL team, without enough time to shoot and put together an interesting, well-edited piece, what's the point? HBO Sports is known for giving audiences a high standard of films and series. They're not just going to put crap together at the last minute for the sake of putting something out. Even if they were the type to do something like that, the lack of footage available would have would be laughable. I'm certain the 90-minute replacement piece will be finessed and a good watch. It may not be as relevant as Hard Knocks usually is, but we can blame the NFL for that.
Good news, though: According toTHR Hard Knocks will return in 2012.
Your Daily Blend of Entertainment News