TNT Doesn't Renew Men Of A Certain Age For Season 3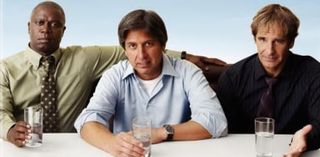 Well, another award winning series bites the dust. Is television the medium where smart projects go to die? I guess that isn't fair with great shows airing on networks left and right but it feels true doesn't it? Despite garnering critical acclaim, including a much deserved Peabody award and multiple supporting actor nods for Andre Brougher, TNT has decided to pull the plug on Men of a Certain Age.
The show revolved around the everyday lives of three best friends of a certain age, namely middle, played by Brougher, Ray Romano and Scott Bakula. Slow on pacing and heavy on character development, the series just never caught fire with audiences the same way it did with critics. It was a very smart, serious and still funny portrait of middle aged men and I'll be sad to see it go but the network couldn't justify renewal with the low viewership.
THR reported the news and was told that, "TNT has been proud to be a part of Men of a Certain Age for two seasons," a spokesperson for TNT said in a statement Friday. "While the show has featured great storytelling and impeccable performances, the audience simply hasn't built to the point where we can continue the series." This is nothing new. How many series over the last few years were great but remained un-watched? Lone Star instantly comes to mind and at least MoaCA got two seasons.
At Turner's upfront, Romano told The Hollywood Reporter he'd stay with the show "as long as we're having fun. What else am I doing? I'm like Richard Gere in An Officer and A Gentleman; I got nowhere else to go!; I'm sure the Emmy winning comedian will find somewhere to go, I mean, everybody loves him right? If not, there's always the golf course.
Your Daily Blend of Entertainment News