TV Recap - So You Think You Can Dance Final Performances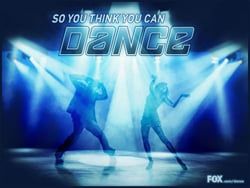 We're finally here - the final performances of the season. I think I'm almost as anxious as the dancers!
I predict that the final two tomorrow will be Joshua and Twitch, giving us another "technical vs entertaining" matchup, like we had with Benji and Travis, even if Joshua isn't as technically awesome as Travis and Twitch isn't as entertaining as Benji, but who is?
Tonight, everyone dances with everyone, so we get every possible pairing, including Twitch dancing with Joshua and Courtney dancing with Katee, along with the now customary solo from each dancer and a group dance at the end choreographed by Mia Michaels. Tonight's guest judge is Mandy Moore.
Courtney and Twitch are performing a hip-hop routine by Napoleon and Tabitha. Twitch seems to keep getting the crazy girlfriend routines, which makes me think he dances from experience here. I don't really notice much in the technical sense when it comes to hip-hop routines, but this one has some bits that I'm sure are pretty difficult, including an awesome airplane spin/lift thingy. The routine was also incredibly fun, as most Twitch and Napoleon and Tabitha routines are.
Mandy Moore thought the routine was awesome and loved Twitch's characters in his routines and Courtney's Jersey coming out. Mary also really felt the routine and called it a knockout, then screamed. Nigel told Twitch to be grateful that he was dancing with Courtney and not Mary. Nigel then screamed back at Mary. He also noted Twitch's tendency to get the crazy woman routines.
This routine really seemed to energize the judges and the audience. All hail the Twitch!
Courtney spoke with Cat about her journey this week, told the world that she has a boyfriend that isn't Gev, and performed her solo. Guess what? I still have nothing to say about solos. Very pretty, but just another 15 seconds.
The judges are saying their piece this week, apparently. Mandy and Mary both praise Courtney's growth throughout the show and Mary tells her that her personality has lit up the stage, no matter who she danced with. Nigel also loves that Courtney has made it to the final four, though no one expected her to be there. Nigel loves how bright her personality has been.
Last week, I complained to my fiance that there haven't really been many routines by Wade Robson this year. Apparently, the dance gods heard me because Katee and Joshua are performing one of Wade's pieces tonight! The only way this could be more awesome would be if Twitch and Joshua were dancing a Wade routine. That said, Joshua and Katee have amazingly good chemistry, so this could rock.
And it does! Both Wade's routines and Joshua and Katee's dancing has this certain intangibly quality to them that effects you deep in your soul. Never in my twenty-eight years of life have I ever had any interest in dancing, but when I watch performances like this, I just ache to be able to move and express myself like these people. This was hauntingly beautiful.
Mandy agrees with me, sighing that the perfomance was just beautiful; she was completely sold on the honesty and emotion of the performance, though she felt that it was a bit weak in the technical work. Mary agrees that it was beautiful and loves the chemistry of Katee and Joshua. Nigel agreed that there were many brilliant things about the routine, including Wade's magical choreography and two of the greatest dancers ever on the show.
After that performance, I need a moment to catch my breath. Thankfully, it's time for a commercial break.
...and we come back with Courtney and Katee dancing a Tyce Diorio Broadway routine, with parasols and jumping and chasing a train and stuff. I don't normally care for Broadway, but this was a fun routine. It felt like Courtney was outdancing Katee at some points and at other points Katee was totally outdoing Courtney. The fiance says that the routine did nothing for her.
Mandy called the routine "cute" and liked the costumes. She says she liked seeing the two of them together, but seemed a bit underwhelmed and without much to say. Mary also liked seeing them dance together, pointing out that they were well synchronized and had nice chemistry. Nigel agreed with the other two judges that it was nice seeing them dance together, but pointed out that Katie put that "extra little bit" into her dancing. Nonetheless, Nigel says they are both brilliant.
Twitch talks to Cat and explains that his nickname comes from always making small dance moves, even in inappropriate places, "twitching". We also get retrospective videos from this season and Twitch says that he was hoping he would draw Kherrington as his partner because he loved her energy. Twitch says his favorite routine this year was Jean Paul's Viennese Waltz inspired by his daughter. Incidentally, that routine may have made me cry a bit. Anyway, it's time for Twitch's solo and it's brilliantly entertaining. What more can I say?
Mandy talks about how much she loves the twinkle that Twitch has in his eyes and how much fun he has. Mary talks about how he always brings that little bit extra to routines and his freestyle leaves her speechless. Nigel talks about how Twitch has left his indelible mark on this competition and how he was actually happy when Twitch was in the bottom three because that means we'd get to see a Twitch solo. Nigel says that Twitch is, above all, an entertainer and that is more important than being a good dancer.
After a commercial break, Twitch and Joshua are settling their season-long rivalry by performing a Russian dance routine by Yuri somethingsomething. This routine was alot of fun, playing up the rivalry aspect while they took turns doing spin kicks and flips and whatnot.
After they finished, Twitch and Joshua got a standing ovation. All of the judges talked about how difficult the routine was and the level of physical and technical difficulty and stamina that was required and how well they pulled the routine off. While the judges talked, the two guys continued to talk trash and even engaged in a jumping and gymnastics competition. Mary also talked about how excited she was to see two hip-hop dancers in the finale.
During Katee's talk with Cat, she mentions that she hadn't imagined that she'd make it this far and looked back at her almost-elimination after saying she probably wouldn't come back. She also talks about her backstage silliness and then on to the solo. Still beautiful, still graceful, still have nothing really to say.
Mandy advises Katee to keep dancing and stay in ballet class to keep working on her knees and feet. I have no idea what this means. Mary and Nigel both say that they cherish every performance that Katee has danced and that she has always been brilliant.
Katee and Twitch are dancing the dreaded Foxtrot choreographed by Tony Meredith. I thought the routine was beautiful and kinda awesome, which probably means that it sucked. We'll have to go to the judges to find out. In the meantime, the climatic lift and spin was glorious.
Mandy thought the routine was very romantic and also loved the lift. All of the judges think Twitch looks great in his tux and make him say "Bond, James Bond." I'm telling you right now, the next Bond will be black. Mary is amazed by Twitch's growth this season, as is Nigel. Both praise Katee's performance throughout the season, calling her consistently amazing.
Before his solo, Joshua talks about doing chores at academies in order to take classes and choosing dance over track and football. Joshua insists that he's not much of a crier, but Cat calls him out as the biggest blubberer on the show. Joshua's favorite routine was his samba with Katee. His solo tonight was awesome, as always and as expected, though he does surprise by finishing up on the judges' platform.
Mandy call Joshua smooth and full of charisma and loves that he has the confidence to shake his butt in Nigel's face. Mary agrees, praising her vision in putting Joshua on the hot tamale train the first week of the competition. Nigel also agrees, saying that Joshua has set the standard for untrained dancers. Incidentally, Shannon James left a comment on my recap last week, calling bullshit on the whole "Joshua is untrained" thing, so who knows what's up with that.
After the commercial break, Courtney and Joshua are dancing the Jive, one of those styles that are fun to watch but I can never tell you whether it's done right or not. This performance looked good and seemed fun, but I won't lie to you - I have no idea what I'm talking about, especially when it comes to the jive.
Mandy seemed to like the performance, exclaiming "Holy Moley!" and was amazed at how fast they moved. Mary agreed, saying that this is one of the hardest and fastest dances in Latin competition, and the choreographer just added to that. Nigel disagreed, saying there were a lot of things he was disappointed in, saying that they didn't have a chance to learn how to breathe and it was obvious that they were tired. He agrees that the routine was very hard and they are amazing dancers, but his purpose is in teaching people how to improve, and there were areas to improve.
Honestly, I see what Nigel is saying, but I don't really see that hurting Joshua and Katee's votes any.
Finally, we have all four dancers performing a Mia Michaels routine, so you know that's full of some craziness. We have kilts! And shirtless Twitch and Joshua! And jumping! And lifts! And I kinda didn't get it but it was still kinda awesome!
...and I'm kinda sad that it's all over. It's been an awesome season. I don't know that there have been any real standouts like the bench routine from season two, but the season has been consistently amazing.
It's been a blast, y'all. Vote Twitch!
Best Solo Performance: Twitch!
Best Couple Performance: Joshua and Katee's contemporary routine by Wade.
Predicted Winner: Twitch, though I'd be content with any of them.
Your Daily Blend of Entertainment News
Thank you for signing up to CinemaBlend. You will receive a verification email shortly.
There was a problem. Please refresh the page and try again.