TV Recap: So You Think You Can Dance Top Six Perform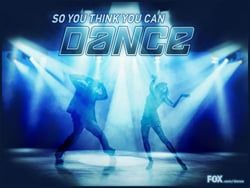 Tonight, instead of a two-hour show, we get a rerun of last week's results episodes featuring the injustice of Twitch and Will being in the bottom two and Will going home. You can read about this travesty in Kelly's recap.
Despite last week's tragedy, Twitch, Lord of Dance, is still in the running. Join me in my shameless fanboy squealing, won't you?
With Will and Comfort's departure, we're down to the top six dancers competing for a spot in next week's finale. The stage looks so empty with only six dancers! Once again, we have partners chosen out of a hat, two dances per couple, and one solo per dancer. Our guest judge this week is Adam Chapman, choreographer of a style that I can't remember at the moment.
Courtney and Mark's first dance is the Viennese Waltz, giving Mark an opportunity to grope Courtney's breast. The waltz is performed to 2008 American Idol David Cook's Time of My Life. Mark shocked me by actually dancing incredibly well and Courtney is predictably gorgeous. I may be disappointed by tomorrow's results if Mark keeps dancing like this.
Adam thought the performance was very beautiful and praised Mark's rise and fall as probably the best of any guy this season. Mary loved the choreography and loved the couple's ability to bring the routine to life. She also praised Mark's growth throughout the season. Nigel called the performance "romantic" and loved the routine.
Chelsie's solo showed plenty of leg and hip shaking. That's really all I can say. See last week's recap for my position on solo routines.
Twitch's solo was amazing, of course. Twitch is a master of movement. A god of grooving. A.... you get the idea, people. I love me some Twitch.
Katee and Joshua are reunited and their first routine is a Contemporary routine by Tyce Diorio. Despite being accompanied by All By Myself by Celine Dion, the routine was incredibly beautiful. Katee and Joshua have had great chemistry all season and it really showed in this performance.
Adam thought that this was the best thing that Tyce has ever done and called the dancers two of the most exciting performers to ever be on the show. Mary called the performance full of passion and loved the leaps and lifts. She also felt that this was one of the most beautiful routines on the show and said she expects Katee and Joshua to be in the finals. Nigel again marvels that Joshua has had no classical training and is amazed by his adaptability.
Chelsie and Twitch's first dance was the mambo and I'm really sad to say that I didn't like it. I can't really point out what was wrong, other than chemistry, but I was very bored. Twitch needs to step up his game or I'll be crying tomorrow night.
Adam thought that Chelsie was on fire but Twitch was a bit out his element. Twitch sold it with his face, though he could have sold it a bit better with his body. Mary liked the choreography. She praised Twitch's ability to hit the two-beat after only five hours of practice and loved Chelsie's dancing in her specialty . Nigel thought the choreographers did a good job of choreographing to make Twitch look good. Chelsie always looks good since this was her style. In short, the judges disagreed with me and thought both dancers did very well with a very difficult routine.
Katee's solo was graceful and spirited, but I still can't find much to say about fifteen seconds of dance.
Joshua's hip hop solos are always fun to watch because of how hard he hits and his flips and spins. It's too bad he hasn't had more hip hop choreography.
Courtney and Mark's second dance is a Jazz routine choreographed by Sonya of the mohawk. This routine was actually pretty cool. It felt kind of dark and raw and a little ugly. I also liked the song that accompanied it, The Garden by Mirah.
Adam loved the performance, exclaiming "That was sick!". Mary called it the weirdest fight scene she has ever seen in her life. When Adam corrected her, she said that it was also a weird love story. Mary loved it. So did Nigel, saying that the routine personifies Sonya and perfectly suited Mark. Nigel called this routine one of the highlights of the night.
Katee and Joshua's second routine is the Paso Doble, featuring a shirtless Joshua for the ladies. And some of the boys. Before the routine began, I groaned because I usually don't like how anyone dances the Paso Doble, but this felt very dramatic and had me intrigued. Right after I typed that, it went all techno on me and still kicked ass.
Adam loved the routine, saying Joshua keeps making him believe in the impossible, doing things he should not be able to do and he can't wait for Katee to see herself on TV because she will be so proud. Mary also loved the routine, saying Katee and Joshua together is also phenomenal and then goes into screaming fits. Nigel loved the high step and tight footwork. Both Mary and Nigel think that Joshua could easily steal the show if he keeps dancing the way he has been.
Courtney's solo is... another solo. I've really run out of things to say about solos at this point. Courtney's a beautiful dancer, so of course her solos are beautiful
Mark's solo was predictably odd. See previous comments about the probable brilliance that I am totally missing.
Chelsie and Twitch's second performance is a hip hop routine by Napoleon and Tabitha about "crazy conductors" fighting over the baton. I could be wrong, but the song sounded like Janet Jackson's Control performed by a string quartet. This was a very fun routine that showcased Twitch's talent for comedic hip-hop.
Adam loved the choreography and performance, praising Chelsea's continually excellent performances. Mary also loved the routine saying Twitch is always brilliant and Chelsea kept up with him amazingly well. Nigel agreed with the other two judges.
Best Solo Performance: Twitch (Of Course!)
Best Couple Performance: Joshua and Katee's Contemporary Routine
Best Performer Of The Night, Overall: Joshua
Prediction on Who's Going Home: Chelsie and Mark (This is most likely just wishful thinking at this point)
Your Daily Blend of Entertainment News
Thank you for signing up to CinemaBlend. You will receive a verification email shortly.
There was a problem. Please refresh the page and try again.