Deus Ex: Mankind Divided's Crappy Pre-Order Campaign Has Been Cancelled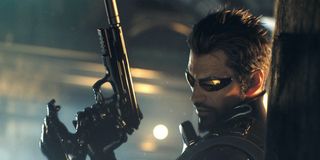 Square Enix and Eidos Montreal have noticed that you really hated the "Augment Your Pre-Order" program they announced for Deus Ex: Mankind Divided. They announced on the game's website today that they're scrapping the program.
"Augment Your Pre-Order" essentially turned pre-orders into a community effort. Five tiers of rewards would be unlocked over time as more and more players throughout the globe reserved copies of the game. In certain tiers, players would choose between one of several rewards. As Square Enix admits in today's announcement, this system wasn't received well by gamers:
To recap, here are the rewards everyone who pre-orders Mankind Divided or buys a Day 1 Edition will receive:
Intruder Pack - Trenchcoat and silenced pistol with custom skins, 2 EMP grenades, 5 packs of pistol ammo, 1000 credits and a praxis point for upgrading augmentations.
Enforcer Pack - Combat armor and an upgraded combat rifle with custom skins, two HE grenades, 5 packs of combat rifle ammo, 1000 credits, and a praxis point.
Classic Pack - The combat armor, trench coat and revolver from Deus Ex: Human Revolution along with one pack of ammo for your revolver, 1000 credits and a praxis point.
Digital Artbook - Collection of art from the game's development.
Digital OST sampler - Six tracks from the Deus Ex: Mankind Divided score by composer Michael McCann, who also handled the music for Human Revolution
"Desperate Measures" mission - You head to the Ruzicka train station in Prague following an explosion to find out who was responsible.
Digital comic book - A comic that explores some of the conspiracies throughout the world of Deus Ex.
Novella - This story tells us what happened to the characters of Human Revolution following the events of that game.
The final reward in the "Augment Your Pre-Order" program, four days of early access, won't be happening. Instead, the game will launch for everyone on February 23rd.
I'm really happy that Square Enix decided to scrap "Augment Your Pre-Order." I'm not fond of pre-order bonuses in general but tying those bonuses to global pre-order numbers is even worse. Square Enix may have been trying to give more control to customers in theory but this program did the opposite. The individual customer has no control over whether thousands of people across the globe decide to reserve the game. The fact that consumers had no idea what pre-order numbers were needed for each reward tier was also troubling. I hope the backlash against this complicated scheme dissuades other publishers from trying something just as convoluted in the future.
Staff Writer at CinemaBlend.