Dawn Of The Planet of The Apes Opens To $4.1 Million Thursday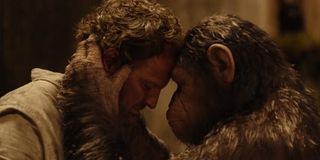 Summer's been a bit of a bummer for the movie industry. With Transformers: Age Of Extinction slowly declining, there's a very good chance the season ends without a single film crossing the $250 million threshold domestically. Some looked at this weekend's Dawn Of The Planet Of The Apes as a potential savior. But if early numbers are to be believed, the apes are not necessarily going to rescue the multiplex. Pressure's on you, Planes: Fire & Rescue!
Deadline reports that Dawn Of The Planet Of The Apes only pulled in $4.1 million in late-night shows last night beginning at 10 PM. By comparison, the midnight shows for Rise Of The Planet Of The Apes three years ago totaled only $1.25 million. So it's an improvement, and an even bigger win if you throw out inflation, 3D, and the two-hour-earlier showtime. Good, right?
Not so fast. Rise Of The Planet of The Apes opened to $54.8 million three years ago. The new film is expected to top that. But looking at similar performers this year is folly. 22 Jump Street opened to $57 million, but did so with a $5.5 million evening gross. Divergent opened to $54.6 million on the strength of a $4.9 million night-before showing. It stands to reason that a similar comparison, based on audience size, is X-Men: Days Of Future Past, but that film collected $8.1 million in night-before grosses. All signs, in other words, points to a debut similar to the last film's opening.
Which is unusual, in that we're looking at a deflated summer market, and this film should have dominated. Rise Of The Planet Of The Apes was released in August and most onlookers were dubious that it would be any good. Even with the bad buzz and negativity, that $54.8 million was considered a surprise. What's more, the film had legs, performing strongly all throughout August and eventually grossing $176 million domestically and $482 million worldwide. With all these signs, it stood to reason that this film had some anticipation behind it.
But an opening in the same territory, despite great reviews, an absence of bad buzz, three years of anticipation and a 3D surcharge? What gives? The last film had the benefit of James Franco, Worldwide Multimedia Superstar. But this time around, the studio boldly gave Andy Serkis lead billing, opting for less-known actors like Jason Clarke and utility players like Gary Oldman to fill in the cast. This entry also looks considerably darker than the previous one, a turn-off for parents who don't want to want to take their kids to an absurdly violent PG-13 movie – not a big demographic, but a demographic nonetheless. Deadline does have a reasonable comparison in World War Z, however – a year ago, that film did $3.6 million the night before and coasted to a $66 million opening weekend. Maybe the Apes can pull this one out after all.
Your Daily Blend of Entertainment News
Thank you for signing up to CinemaBlend. You will receive a verification email shortly.
There was a problem. Please refresh the page and try again.