Disney And Sony Experimenting With New Releases On VOD In South Korea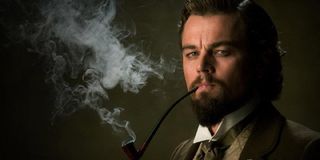 Yet another threat is coming up against the big screen experience, only this time it's first being tooled around with on the other side of the world.
The Wall Street Journal has revealed that in the last year or so both Walt Disney and Sony have been experimenting with giving South Korean audiences the option of either buying a ticket to see a new movie in theaters, or rent it from a home-based service either online or on their television. Examples offered by the newspaper include Quentin Tarantino's Django Unchained (put out by Sony) which was available to be viewed at home just three weeks after it came out in the Asian nation in April, and both Pixar's Brave and Disney's Wreck-It Ralph, which were available four to five weeks after the start of their theatrical runs in December and September 2012, respectively. It's noted that South Korea is the eighth-largest film market in the world, and that four other major studios are watching closely to see what kinds of results Disney and Sony get from the experiment.
Depending on how things turn out, the situation could spell trouble for both the big chains and the independent theater owners. If you've ever wondered why popcorn, candy and soda is so damn expensive at the movie theater while blockbuster films are making millions upon millions of dollars, it's because the theater itself actually doesn't make a great deal of money off of a new title during its opening weekend. Instead, studios actually take most of the cash from a movie's first few weeks of release, with the cinema actually only making money from screenings late in the game (in most cases after it has fallen from its spot on top of the box office charts). As a result, theaters have spent years and years fighting against smaller and smaller theatrical windows, as studios have pushed for their titles being put out earlier on home media, premium channels and VOD.
Some of you may remember a time from a few years ago when Universal actually planned a similar experiment based in the United States with Brett Ratner's Tower Heist. The studio wanted to make their movie available on VOD just three weeks after the film the film had gotten its wide release - albeit charging $59.99 for the rental. The plan was met with boycott threats from multiple theater chains who said that if Universal wanted to go through with their plans the Ratner movie would not be shown on their screens. The studio eventually backed down.
And it's not just cinema owners that are upset about the idea of smaller theatrical windows are strong focus on home media. In June of 2011, a group of filmmakers including Christopher Nolan, Quentin Tarantino, Kathryn Bigelow, Todd Phillips, David Dobkin, Jon Favreau, and Michael Bay signed an open letter arguing in favor of their films still getting their full time on the big screen.
Ultimately , however, this situation isn't dictated by the theaters, studios or the filmmakers, but by the consumer. If there is an exceptionally loud cry from casual movie-goers who don't want to leave their couch in order to see the latest big release, then the market could eventually start to turn in that direction. Personally, I don't think there's anything that could ever match the pure bliss that comes with sitting in the dark and being completely swallowed into the larger-than-life story projected on the wall-sized silver lenticular screen in front of me, but at the same I can understand people wanting the option. What do you think? Tell us your thoughts in the comments section.
NJ native who calls LA home; lives in a Dreamatorium. A decade-plus CinemaBlend veteran; endlessly enthusiastic about the career he's dreamt of since seventh grade.
Your Daily Blend of Entertainment News
Thank you for signing up to CinemaBlend. You will receive a verification email shortly.
There was a problem. Please refresh the page and try again.