Elijah Wood Tries To Save Sasha Grey Through His Computer In First 'Open Windows' Trailer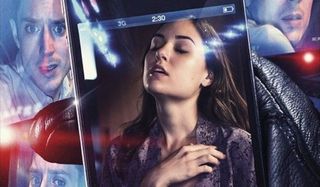 Technology has not only given us new ways to tell stories, but also new ways to make movies as well. This explains Open Windows, an ambitious new thriller from director Nacho Vigalando, the new trailer of which is above. Apparently the entire film is told from the perspective of multiple open windows on a computer, which is a clever way of presenting multiple points of view. Of course, the irony of this is that the footage made available during this exercise wouldn't be that much different from an actual movie. That's how far technology has traveled.
Elijah Wood, who by now is no stranger to high concept indie thrillers, stars as Nick, a superfan who enters a contest to win a date with beautiful actress Jill (Sasha Grey). But when she opts out of the deal, a frustrated Nick hears from her "representative", who promises a voyeuristic gaze into her home via secret webcam. However, though he agrees to the plan, he soon learns that he's being used in a deadly game where he's doomed to be witness to Jill's horrific murder.
Vigolando is oddly billed in the trailer as the director of The ABC's Of Death, which is misleading since he's only responsible for one of the twenty six vignettes in that film (specifically the first one, A Is For Apocalypse). The trailer also mentions that he's the director of Timecrimes, one of the twistiest and most complex time travel movies in recent memory. It's in Spanish, though studios have been very curious about possibly making an English language remake. Last we heard, Steve Zallian was attached to write and direct. Here's the trailer.
Vigalondo is an up-and-coming voice in genre filmmaking, though response was weirdly muted for his Timecrimes follow-up Extraterrestrial, which boasted both an apocalyptic sci-fi alien plot as well as an amusing romantic comedy narrative. Regardless, this is an ambitious step-forward – it looks like there's just as many conventional scares in this premise as there are DePalma-esque surprises and genre inversions.
There's also Wood, who has been abnormally dedicated to under-the-radar horror stuff since Lord Of The Rings. In addition to Grand Piano from earlier this year, Wood also starred in the icky Maniac remake and the recent Cooties. He's also recently stepped behind the camera, producing the indie horror film Toad Road. He's also a producer on this film, and is also a producer on FIVE more independent horror films coming this year. Damn. Frodo knows his scares. Open Windows is slated for release on VOD on Oct. 2, and in theaters on Nov. 7.
Your Daily Blend of Entertainment News
Thank you for signing up to CinemaBlend. You will receive a verification email shortly.
There was a problem. Please refresh the page and try again.