Jamie Foxx Latest Actor Rumored For Django Unchained, Possibly Replacing Will Smith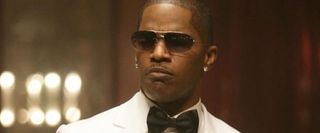 Any new Quentin Tarantino project will be subject of a lot of rumors, but the speculation has been especially crazy around Django Unchained, the new QT project that probably will star Will Smith, or hey, unless it's Idris Elba, or maybe Chris Tucker could get the part. The story about an escaped slave taking vengeance on his evil master (probably to be played by Leonardo DiCaprio-- that's one rumor that seems to be for real) now has a new name circling: Jamie Foxx.
As reported by Showbiz 411 Foxx is now in the running for the part; it's unclear if that news came from Samuel L. Jackson, who chatted with 411's Roger Friedman at the Tonys, or from some other unspecified source. The same source also said that Leonardo DiCaprio is confirmed for the film, but again, having no idea who the source is it's hard to know how much we should trust them. So take this all as just more fodder for the rumor mill for now.
Foxx, though… that's an interesting thought. The actor's career has been all over the place since he won an Oscar for Ray back in 2005, with starring roles in Miami Vice and The Soloist not really going anywhere and bit parts in Valentine's Day and Due Date failing to garner much attention for him individually. Working with Tarantino would be a huge change of pace for Foxx, but the director has been able to work magic with all kinds of actors you'd never expect to cross his radar. I still think Will Smith could benefit most from a QT career revival, but if he falls out for some reason, Foxx is a fascinating second choice.
Staff Writer at CinemaBlend
Your Daily Blend of Entertainment News
Thank you for signing up to CinemaBlend. You will receive a verification email shortly.
There was a problem. Please refresh the page and try again.