Joseph Gordon-Levitt Makes Panties Drop By Feeling Like A Natural Woman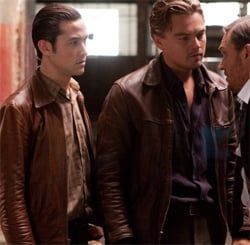 What's not to love about Joseph Gordon-Levitt? He got his start on every person in their now mid-20s' favorite show ten years ago 3rd Rock From the Sun, and has now grown up to star in films of epic scale like Inception. There's nothing stopping him from becoming a megastar, and pulling stunts like playing "Natural Woman" by soul legend Aretha Franklin at his hitREcord show in NY will only make people love him even more.
Ever the artist, Levitt has been building his hitREcord project for about five years and it has grown into a massive collective of artists ready and willing to share their work and collaborate with others. Makes you wonder what a dream he would be to work with on set, ready to work together rather than just do a scene "his own way".
Available at hitREcord.org are clips from the entire Summer show which took place a few days ago, and the below clip shows off Levitt making panties drop with his guitar and vocal skills. Does he have Aretha's pipes? Definitely not. But is he pretty good and having a good time? Absolutely.
Your Daily Blend of Entertainment News