King Kong Being Turned Into An Animated Movie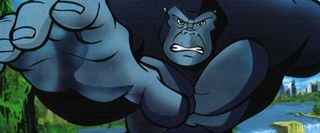 Fox is jumping feet first into the monkey business. This summer they have the awkwardly named Rise of the Planet of the Apes headed for theaters and now they've started work on a new simian themed film project. Or maybe I should say an old one, since what they're doing is repurposing King Kong, yet again.
The twist this time is that Kong will be animated. Deadline says Fox Animation has hired Christian Magalhaes & Bob Snow to write the script, based on a story invented by Mike Weber, which will be set in the modern day and tell the classic giant monkey run-amok in the big city tale entirely from the perspective of King Kong. Smells like talking monkey time, to me.
No official word yet on whether the monkey will talk, but Magalhaes & Snow are reportedly actually pretty good screenwriters, so there's hope here. They haven't had anything produced but their spec script Murder of a Cat ended up on the Black List, Hollywood's underground guide to the best unproduced scripts in the business. Whatever they come up with it's sure to be better than this:
Your Daily Blend of Entertainment News