See The Entire Cast Of X-Men: Days Of Future Past Onstage At Comic-Con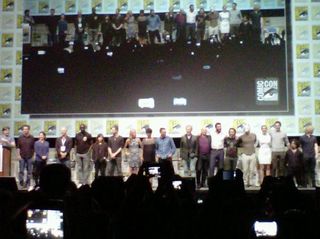 (Click here to see it even larger)
We were pretty sure it was going to happen, but seeing it all roll out in real life was still pretty cool. The entire cast of X-Men: Days of Future Past-- including two versions of both Magneto and Professor X!-- took the stage at Comic-Con today, joined by Bryan Singer to give fans a first look at the massive superhero sequel due in theaters next year. The above photo was snapped by Sean from inside Hall H, and yes, the quality is not that great-- but you can tell the massiveness of the cast with just one look.
Can you name them all from left to right? We admit we're having some trouble-- that looks like a clump of producers down to the left before you get to Omar Sy and Ellen Page, and Michael Fassbender is in the green T-shirt wearing one of the animal masks from You're Next, of all things. Sean is reporting on the panel as it happens right here in his liveblog, so you can follow along with everything that went down, which apparently included Ian McKellen flirting with Michael Fassbender-- you don't want to miss it.
Now that the panel is over, here's what Sean had to say about the footage that was screened, which surprisingly didn't include a reveal of the giant robot Sentinels who will certainly be part of the film. But Wolverine fighting Magneto ought to make up for it, right?
And here's a even better version of the full group shot that director Bryan Singer tweeted when the panel was over:
Your Daily Blend of Entertainment News
Staff Writer at CinemaBlend
Your Daily Blend of Entertainment News
Thank you for signing up to CinemaBlend. You will receive a verification email shortly.
There was a problem. Please refresh the page and try again.