Straight Outta Compton Opening Sets Huge Box Office Record For Universal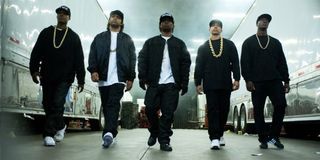 The N.W.A biopic Straight Outta Compton is already off to a strong start at the box office for its opening weekend as it has already taken in an impressive $24.2 opening day. And while this has surpassed expectations for the film, the most impressive statistic comes in its additional overall box office gain for Universal. This powerful opening for Straight Outta Compton sets Universal Pictures up to break a huge domestic box office record. Right now Warner Bros. holds the record for quickest take of $2 billion domestically, and with the numbers Straight Outta Compton is bringing in, Universal will overtake that record by the end of the weekend. But what's most impressive of all, is what this can help Universal further achieve.
Universal will overtake the speed record previously held by Warner Bros, according to The Hollywood Reporter. In 2009, Warner Bros achieved a $2 billion box office take on December 25th, and holds that record. Universal is all set up to break that $2 billion mark thanks to Straight Outta Compton, and it will name the studio the fastest to break $2 billion in one year domestically, ever. On top of that, the record Warner Bros. held reached $2.1 billion for the year, a number that Universal can quickly top at the rate they are currently going. In June, Universal rose to $1 billion domestically. It was the quickest rise to $1 billion in history, and just last week the studio broke another record, claiming the highest-grossing box office year in global history as it reached $5.53 billion worldwide.
The studio is on the fast track to breaking all big money box office held records by the end of the year. And while Straight Outta Compton looks small in comparison to a movie like Jurassic World, its contribution is still substantial. Universal has already had five films open at No. 1 in the North American box office this year, and the studio has held the top spot domestically for 11 weekends. Straight Outta Compton is already looking to give Universal that sixth No. 1 film and twelfth No.1 weekend. That's more than any other studio.
Universal's numbers this year have been astounding. With big hits ranging in genre from Jurassic World and Furious 7 to Fifty Shades of Grey and Pitch Perfect 2 there's been something for every movie fan. Even Minions brought in crazy numbers. Their formula for success seems to be working with major numbers being brought in from franchise films and sequels, and seen so far with Straight Outta Compton even smaller original films have opportunity to succeed. We're interested to see just how high the box office numbers go this year, but if Universal has proven anything, it's that you don't need to be a superhero to make the big bucks.
Your Daily Blend of Entertainment News
Thank you for signing up to CinemaBlend. You will receive a verification email shortly.
There was a problem. Please refresh the page and try again.