5 Great Musical Biopics You Need To See After Bohemian Rhapsody And Rocketman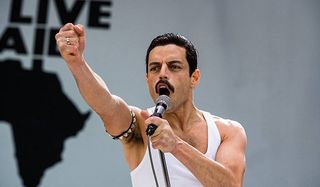 The Queen biopic Bohemian Rhapsody was an undisputed smash hit in 2018, winning awards and receiving huge praise. So far in 2019, Rocketman, about the great Elton John has been… less of a juggernaut, but is still a wonderful movie worth checking out. Of course, these aren't the first music-inspired biopics and there are a lot of them out there worth your time and money.
It's hard to pick and choose the most worth, but I ultimately decided to limit this list to five, which is tough, because it means leaving out some legendary movies, like Sid & Nancy, about Sid Vicious, Amadeus, about Mozart, The Doors, about…well…The Doors and many more.
These are five that we think are worth watching the most, depending on your mood and what time of night it is, because sometimes, the best ones are the ones you see when you are up too late and getting into trouble, just like the subjects in the films.
Straight Outta Compton (2015)
Yeah, there has been some controversy surrounding this, just as there is for many biopics, but this fantastic film about the legendary rap group N.W.A. has everything anyone could want from a great biopic.
It's got an outstanding cast, featuring Ice Cube's son, O'Shea Jackson II, who could be Ice Cube's twin, they look so much alike. It brings in all the best music from N.W.A.'s short run at the top of the rap game in the late '80s. It has the conflict between band members, specifically going into the legendary feud that erupted between Dr. Dre and Eazy-E that forced the group to break up. And it has a happy ending, of sorts, with Dre reconciling with Eazy before Eazy died of AIDS.
Sure, there are some serious "artistic liberties" taken and there are some very important details left out that many critics point out should have been included, but that happens in a lot of movies like this and that shouldn't take anyway from anyone's enjoyment, as long as they know the whole story.
Love & Mercy (2015)
Brian Wilson is a musical genius. He is rightfully often cited as changing rock and roll from a teenage pastime to a serious artistic endeavor with his work in the mid-sixties, specifically with the legendary and amazing Pet Sounds album by his band, The Beach Boys. Love & Mercy is a creative and interesting take on his story and one of the best biopics of this decade.
Love & Mercy splits Brian Wilson's story up into two important parts of his fascinating life. The first during that amazingly creative time in the mid-sixties when he wrote the album Pet Sounds and the masterpiece "pocket symphony" known as "Good Vibration." Paul Dano plays the enigmatic artists at his most creative and then as he first descends into mental illness and drug abuse.
The Dano/Wilson scenes bounce back and forth with scenes of Brian Wilson in the 1980s, played by John Cusack, as his mental illness is being taken advantage of by his sketchy doctor, Eugene Landy, played spectacularly by Paul Giamatti. Love & Mercy is a wonderful story of genius lost and redemption found.
I'm Not There (2007)
Since he first moved to New York from Minnesota in 1961, Bob Dylan has set out to create a mythos surrounding himself. He's notoriously vague and dodgy in interviews and he has spent a considerable amount of time deliberately confusing the public in regards to his history. For all of his lyrical genius, his constant artist re-invention and persona-shifting is just as big a part of his sizable legacy and I'm Not There does nothing to lessen that.
For starters, I'm Not There stars six different actors as Dylan: Christian Bale, Marcus Carl Franklin, Richard Gere, Cate Blanchett, Ben Whishaw and Heath Ledger. They all represent the shape-shifting Dylan in different eras. Like Dylan's autobiography, the movie isn't linear, nor is it completely true to the facts, because those things don't matter to Bob Dylan. Instead, what you get is a series of vignettes that try to explain the myth of Dylan, not the true story of Dylan.
There is no curtain being pulled up to reveal the wizard behind it, if anything, there are just more curtains falling down around the legend's true story. The myth of Dylan, like the myth of the poets he idolizes, including Dylan Thomas, is what is important here. His art is far more important that what he likes for breakfast and his personas have always been the key to his best art.
Walk The Line (2005)
Unlike I'm Not There, Walk The Line is a very straightforward telling of probably the greatest country artist of all-time, Johnny Cash, played in an Oscar-nominated performance by Joaquin Phoenix. It doesn't get bogged down in myths, nor is it over-stylized or complicated. It's just an old-fashioned, brutally honest, and forthright story, just like the Man In Black himself was.
At its heart, it's a love story. It may follow Johnny Cash from his childhood to superstardom, but his beloved wife and oft musical partner June Carter Cash, played by Reese Witherspoon in an Oscar-WINNING performance, is just as important to the story. And what a beautiful love story it is. Eventually. After the ring of fire they are forced to go through before coming out on top in the end.
What makes Walk The Line so great is its brutal honesty about June and Johnny's relationship, which for years in the beginning was a real rollercoaster due to Johnny's drug abuse. The film is also completely open about that, his pill addiction and his alcoholism. It's all there, the naked truth about one of the most influential artist of all time and how his partner truly was a partner, not content to watch Johnny squander his immense talent under the burden of drugs and drink. The movie ends with June finally accepting Johnny's marriage proposal and if that doesn't leave you in tears, nothing will.
The Dirt (2019)
Motley Crue is completely over-the-top, ridiculous, stupid, and really, really awesome. And so is the 2019 biopic about the group, streaming on Netflix, called The Dirt, based on the completely over-the-top, ridiculous, stupid, and really, really awesome autobiography of the same name the band published in 2001. Sure, there are better biopics out there, but when you're home on a Friday night with nothing to do, it doesn't get better than streaming The Dirt.
In a really weird way, it is kind of the same as I'm Not There in that The Dirt is really about perpetuating the mythos of Motley Crue as an drug-addled, drunk, sex-addicted bunch of insane troublemakers that figured out a way to never have to stop being teenagers than it is about telling the whole truth.
The truth is in there, somewhere, maybe. There are certainly some of the harsh truths they faced, like Nikki Sixx's heroin addiction and Vince Neil killing his friend "Razzle" Dingley, drummer for Hanoi Rocks, in a drunk driving crash in Hollywood in 1984. The story is full of sobering moments, but really, the party never stops.
Five great musicians and bands and five amazing biopics, each uniquely great for different reasons. While it's sad that La Bamba about Richie Valens missed the list as did the really horribly amazing CBGB with Alan Rickman as Hilly Kristal (like The Dirt we celebrate its glorious badness), these are five that won't disappoint, for sure.
Hugh Scott doesn't believe aliens are hidden at Area 51 or that Elvis is alive, but he does believe birds are real and Meghan Markle isn't treated fairly by the tabloids. He's been writing about music, movies, and celebrities for most of his adult life after realizing stocking shelves in a paper warehouse in college wasn't all it was cracked up to be.
Your Daily Blend of Entertainment News
Thank you for signing up to CinemaBlend. You will receive a verification email shortly.
There was a problem. Please refresh the page and try again.