Viggo Mortensen Might Play This Badass Role In Tarantino's The Hateful Eight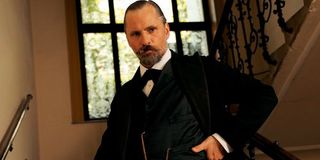 Even though the movie won't go into production for another few months, Quentin Tarantino has already provided us with a good idea of who he wants to star in his next feature, The Hateful Eight. This past summer the Django Unchained writer/director hosted a very exclusive live-reading of the script, and helping him bring it to life on stage were the likes of Samuel L. Jackson, Bruce Dern, Michael Madsen, Kurt Russell, James Remar, Amber Tamblyn, Walt Goggins, and Zoe Bell. While it may very well turn out that all of those stars return to work on the film version, but now new rumors are circulating saying that the filmmaker is looking at yet another big name to join his latest cast.
A source has reported to the New York Daily News that Quentin Tarantino was recently spotted at the Greenwich Hotel in New York with History of Violence star Viggo Mortensen, and, if the story can be believed, they were having a very energetic conversation about what appeared to be a screenplay (presumably The Hateful Eight). The insider was a guest at the hotel who overheard the director ""boisterously" discussing he possibility of the actor playing a "ruthless gang leader" character. When reached for comment on the story, Moretensen's representation didn't respond.
The Hateful Eight, which was at one point shelved due to what Tarantino called "a personal betrayal," is another western written and directed by the filmmaker that opens following a bounty hunter who is making his way through a desert town during winter and traveling with a female prisoner. They wind up picking up a few extra travelers along their journey, but are eventually forced off the road by a horrific blizzard and must take shelter in a local haberdashery. Its in this shop that the characters meet the rest of the ensemble. Of course, because this is a Tarantino film it doesn't take long before tempers begin to flare and violence starts to erupt.
It's worth noting that there weren't any characters described as a "gang leader" in the Hateful Eight teaser trailer was released with Sin City: A Dame To Kill For back in August, but that doesn't necessarily mean that this rumor doesn't hold any water. While it would be an unfortunate turn of events, it's possible that the gang leader is a character that isn't introduced until late in the script (I say unfortunate because that may mean this story spoils a surprise appearance by Viggo Mortensen in the film). At this stage in the game its' really hard to tell the truth from the fiction in a story like this, so really the best course of action is just to wait and see how it develops.
It has been officially revealed that The Hateful Eight will be going into production at the start of 2015, and while no official release date has been announced, it's expected that the movie will be completed in time to come out in the later months of next year.
NJ native who calls LA home; lives in a Dreamatorium. A decade-plus CinemaBlend veteran; endlessly enthusiastic about the career he's dreamt of since seventh grade.
Your Daily Blend of Entertainment News
Thank you for signing up to CinemaBlend. You will receive a verification email shortly.
There was a problem. Please refresh the page and try again.