X-Men: Apocalypse Wrapped Production In Perfect Fashion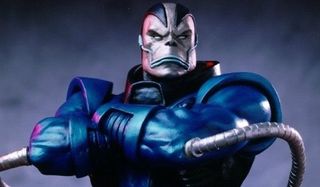 Ain't no party like an X-Men party, as proven by the pictures posted on Instagram as Bryan Singer and his cast celebrated the wrap on X-Men: Apocalypse. Ever wonder what the celebs drink when they want to blow off steam and commemorate a successful shoot? Well, here's the drink menu, courtesy of the longtime X-Men director:
This is one of several pics posted to Bryan Singer's Instagram page, including him being the meat in an Olivia Munn-Alexandra Shipp sandwich:
And the director partying it up with other cast members like James McAvoy, Ben Hardy and Josh Helman:
Bryan Singer has been hard at work on X-Men: Apocalypse, his fourth X-Men feature and second consecutive after he stepped back into the mutant "ring" for the monumentally successful X-Men: Days of Future Past. His latest story will flash forward from the 1970s timeline from Days but will stop in the 1980s, where the lingering threat of Apocalypse (Oscar Isaac) – the world's oldest mutant – pulls Professor Charles Xavier (McAvoy) into his menacing circle.
X-Men: Apocalypse also is going to reestablish this X-Men universe with several new faces. Olivia Munn, Alexandra Shipp and Ben Hardy are playing versions of characters we've either seen before (in Storm and Angel) or are seeing for the first time (in Psylocke). It's believed that Fox's plan is to soft reboot the X-Men series with new versions of classic characters like Cyclops, Jean and Storm. We don't have a Wolverine yet. This also might be the first X-Men movie NOT to feature Hugh Jackman in his iconic role.
Many of us also wonder if X-Men: Apocalypse will be Bryan Singer's last dance with the franchise, as well. After directing the first two movies in the series, Singer passed the baton to Brett Ratner for The Last Stand, while Matthew Vaughn reestablished the universe with First Class. Singer has done two X-Men movies back-to-back, but will he continue, or allow someone else to play in this sandbox? It's possible this wrap party could be a true wrap for the director, meaning the film will be his farewell gift to all of us when it arrives on May 27, 2016.
Movie junkie. Infatuated with comic-book films. ReelBlend cohost. Resident dad. Extroverted introvert. Wants to see the Snyder Cut. Managing Director at CinemaBlend.
Your Daily Blend of Entertainment News
Thank you for signing up to CinemaBlend. You will receive a verification email shortly.
There was a problem. Please refresh the page and try again.