Weekend Box Office: The Girl on the Train Takes Top Spot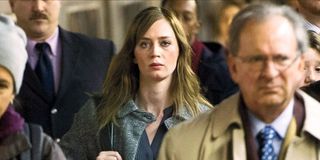 A sleepy October trudged forward at the box office, with one new movie snagging a comfortable lead while the remaining newcomers settled out in the bottom half of the chart.
Emily Blunt's new thriller The Girl on the Train took the top spot, banking $24 million. With the $16 million the movie has already banked internationally it's close to catching up to its $45 million budget, but won't be earning any surprise profits for Universal.
Actor Nate Parker moved behind the camera to write and direct his first feature length project, The Birth of a Nation. It debuted with $7.1 million against a $10 million production budget for a relatively solid if quiet sixth place start.
Middle School: The Worst Years of My Life was another low budget entry, eeking out a close number seven start with $6.9 million. Director Steve Carr cranked out the comedy for just $8.5 million, much lower than his other more succesful (financially, not cinematically) projects, which include Paul Blart: Mall Cop and Daddy Day Care.
Disney's Queen of Katwe, the best movie in the top ten that no one is seeing, slipped back from seventh place to tenth after expanding to wide release last weekend. Domestically it has only earned $5 million against its $15 million budget.
Disney won't miss the money, (pocket change for the studio who easily earned that $15 million from ticket sales for three year-olds who slept through Zooptopia) but it's a sad reminder that a lot of great movies go unnoticed because the box office doesn't have room for movies with no flash. Maybe if the posters said "Starring Lupita Nyong'o, the voice of a character from a Star Wars movie"?
For the full weekend top ten, check out the chart below:
Your Daily Blend of Entertainment News
Thank you for signing up to CinemaBlend. You will receive a verification email shortly.
There was a problem. Please refresh the page and try again.